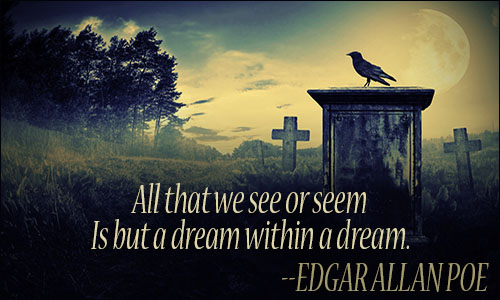 LIVE FROM THE GRAVEYARD
Edgar Allan Poe
In preparation for the upcoming spooky season, the folks at the Seanchai Library are going to try a Real Life meets Virtual Worlds experiment. This Friday night, September 23rd, one of their professional storytellers, Mr. Shandon Loring, will be presenting several selections from Edgar Allan Poe –

and the intriguing part is he will actually be presenting from a real 1800's graveyard, sitting amongst the gravestones with a RL audience

, using portable and wireless technology.
Who knows what unexpected surprises might happen!
Please join us for this curious presentation of not-to-be-forgotten lore presented in Living Voice
Please note this is an experimental presentation subject to vagaries of a place called the Real World.. and possibly the next world as well!
PRESENTED IN LIVING VOICE at SEANCHAI LIBRARY

http://maps.secondlife.com/secondlife/Bradley%20University/101/208/28