THE WARHOUND and the WORLD'S PAIN
- by Michael Moorcock -
A hardened cynical mercenary during the Crusades accepts a quest to save the world.
Who has asked for this quest to reconcile Heaven and Hell?
PRESENTED IN LIVING VOICE BY GYRO MUGGINS
at SEANCHAI LIBRARY in SECOND LIFE
9pm
LATE NIGHT with Shandon Loring
*THIS IS HALLOWEEN! THIS IS HALLOWEEN!*
Everybody Screeeaaaaammmmm!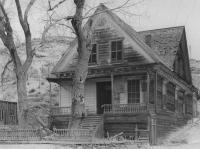 Tonight your storyteller will be reading Live from an actual haunted house, so who knows what unexpected surprises might happen!
Please join us for this haunted presentation on Halloween Night!
Presented in Living Voice by Shandon Loring and a special guest storyteller!
Perhaps you were once in an Empty House, you were alone in that room, yet your intuition told you that someone or something else was there with you. A creak on the stairway, the rustle of a curtain, a barely perceptible change in the air . . .
Tonight stories from:
Algernon Blackwood, Edgar Allan Poe, Virginia Woolf, Ambrose Bierce
http://maps.secondlife.com/secondlife/Bradley%20University/101/208/28